WOMEN IN BLACK AGAINST THE WAR IN FORMER YUGOSLAVIA
NETWORK OF EAST-WEST WOMEN
SERBIAN AMERICANS
RECONCILIATION AND CULTURAL COOPERATIVE NETWORK

New York, March 11, 1998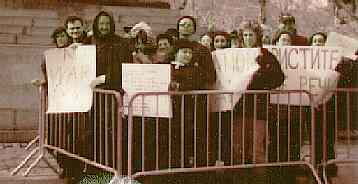 A VIGIL TO STOP THE VIOLENCE IN KOSOVO/A
(opposite of Yugoslav mission to the U.N. and underneath the monument to the 7th regiment of 117 U.S. infantry from the WW I)
Demand negotiations to prevent another war in the Balkans. Call for an open society, the restoration of the basic democratic rights of the Albanian majority and the inclusion of women's voices in the decision making process.
WE KINDLY ASK YOU TO STAND IN LINE PEACEFULLY AND IN SILENCE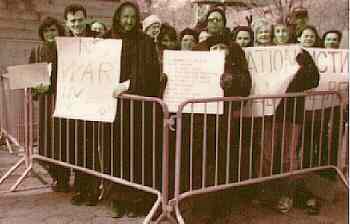 "Solution lies in dialogue" (Serbian minister of interior)...

...and for dialogue both sides should be alive.
(RACCOON)
"We gave everyone in town a chance to leave" (Serbian policeman in Prekaz)...

...why don't give everyone a chance to stay?
(RACCOON)