prostor
718/784-9121
fax: 718/784-1858
The deeply tragic events of September 11 that rendered New York looking and feeling briefly like Sarajevo or Vukovar or Knin of the Balkan wars, were especially traumatic for young people who depend on adults to provide the stability of their world. This is particularly true for those youngsters who already experienced the war and destruction, like the kids exiled with their families from the war ravaged areas of former Yugoslavia. Our art therapist, Barbara Cvejic, immediately suggested that we start building our own Twin Towers from scratch, from rubish that we can find lying around our space. Now, every Saturday kids will add another floor, and put people inside, and make the buildings alive again. Return here to watch the progress of that project.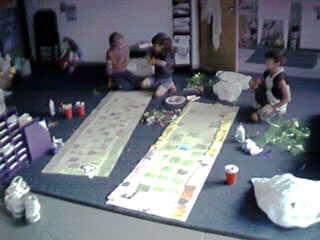 29 people hailing from the region of former Yugoslavia died in the tragedy, and about 3000 lost their jobs (maintenance and janitorial) due to the tragedy that annihilated 9% of the total New York city office space in a less than 20 minutes. And at least one person, that we know, lost a place to live.
Click here for the pop-art rendering of Twin Towers (Lego Twins)in chalk and charcoal by a Croatian artist Robert Simrak, Fall 2001.

Note:
It is little known that Sarajevo also had it's own 'twin towers', much smaller than New York ones, but just as burned and destroyed by the end of the war. Sarajevo twins were called Momo & Uzeir by the characters from a TV comedy: one a Bosnian Serb, another Bosnian Muslim, both from the more serene times. They were built in the prosperous Yugoslav 1970s, just as the New York Twins were.



map and driving directions
43-32 22nd Street, Suite (buzzer) 301 in Long Island City, between 43th and 44th Avenue



subway to 23rd Street, Ely Avenue
This project was made possible by a generous grant from The New York Foundation