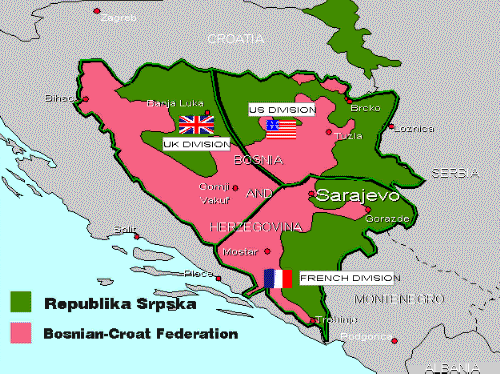 Sattelite Images of War in Bosnia by Mario's Cyberspace Station
Arms Deliveries to Bosnia and Croatia by Mario's Cyberspace Station
While High-Speed Message System Goes Unused, GIs Read Snail Mail from Home
While U.S. soldiers serving in Operation Join Endeavor read mail from home that has taken up to weeks to arrive, a next-generation digital messaging system that would cut delivery time to hours is nearly in place and unused. Pentagon foot-dragging is to blame.

The North American Center for Emergency Communications, or NACEC, has already provided radio communication between soldiers in the Persian Gulf and home, has not been given permission to flip the switch on its high-tech plan.

Under "Operation Bosnian Bridge" NACEC would enable families of troops to fill out a message form at its Web site. Volunteers at U.S. command in Tuzla would download and print the messages, and distribute them to individual troops on paper through the military's mail system.

"We're baffled," says NACEC director Edward Addy. He says that pleas from Congress have fallen on deaf ears and that a personal appeal to president Bill Clinton has been launched. "We pose absolutely no threat to U.S. security," Addy told Berserkistan. "We've been working with message traffic for the Department of Defense for five years."

Berserkistan will stay on top of NACEC's new service, providing links to their message forms. In the meantime, you can help by supporting NACEC's operations. Here's how . . .

United States Department of Defense Links for Bosnia

---

AIR FORCE The U.S. Air Force in Bosnia
AIR FORCE RADIO NEWS From Brooks Air Force Base, in RealAudio, 5 minutes
AIR FORCE TV NEWS Ninety-second QuickTime movies from Bosnia, Updated several times weekly
AMERICA'S ARMY The U.S. Army Home Page
AMERICA'S ARMY IN BOSNIA The U.S. Army in Bosnia
MARINE LINK The WWW information service of the United States Marine Corps
NATO Official World Wide Web page
NATO HANDBOOK NATO's WWW and Gopher Site, Searchable
NAVY ONLINE Gateway to United States Department of the Navy online resources
US DEPT. OF DEFENSE The Pentagon's BosniaLINK Home Page
US DEPT. OF DEFENSE BosniaLINK Photos
US NAVY Navy Public Affairs Library

Other Military Sites

---

ARMED FORCES EMERGENCY SERVICES The American Red Cross in support of U.S. Military
MILITARY HISTORY COLLECTION From the New York Public Library

EMail "Any" U.S. Soldier, Airman, Sailor or Marine in Bosnia


The Penatgon's BosniaLINK allows you to send an EMail message to a member of the U.S. military selected at random. Berserkistan's Jim Bartlett reports that such messages, or written letters (and cookies) sent to addresses below, are key to the morale of U.S. forces. Bartlett says the best messages are those that share a slice of life back home. Stories of life at work, at school—it's up to your imagination. GIs readily share these notes from pen pals with their buddies, and a little snapshot of life back in the States goes a long, long way to making soldiers on the front feel like people really care that they are risking their lives in the cause of peace.

Snail Mail Addresses Announced by Pentagon
The Department of Defense has released addresses the American people may use to send mail to soldiers deployed in support of the Bosnia peacekeeping operation and to their family members left behind in Germany. Additionally, under a program sponsored by No Greater Love, special addresses have been created to send Valentine greetings to deployed service members during the month of February. Postal authorities note that such mail should be sent through local post offices, not weigh more than 70 lbs. and be no larger than a shoe box.
POSTAL ADDRESSES FOR SERVICE MEMBERS
Army, Navy, Air Force and Marine Corps land forces:
Service Member Name
or, Any Service Member
Operation Joint Endeavor
APO AE 09397

Navy and Marine Corps personnel aboard ship:
Service Member Name
or, Any Service Member
Operation Joint Endeavor
FPO AE 09398

Families in Germany:
Family Name
or, Any Service Family
Operation Joint Endeavor
APO AE 09399
North American Center for Emergency Communications
Send Greetings and Support to US Troops at Pentagon's BosniaLINK
Reports of Implementation Force activity
A study by LTC S. Ray of U.S. Army Foreign Military Studies Office at Fort Leavensworth, Kansas
Return to the agreement or web resources.