i am just saying that
life is one big suprise
and i say that i hate surprises
but if like
the death catches you under an avalanche
that's not so bad
isn't it?
Truly, snowboarding was conceived as an underground activity. It has roots in the west-coast surfer community that moved inland and the east-coast skate-punk community that had, perhaps, a long winter to endure like a decade ago. Both those sub-cultures are essentially viewed as underachieving by the mainstream, because of their lower stress lifestyles.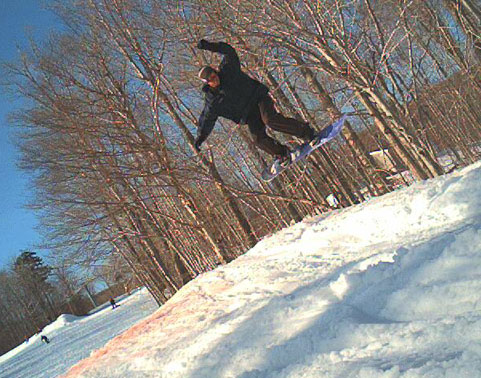 In 1998 snowboarding was the fastest growing sport in the U.S. The same was even more true for the rest of the developed world. Europe, Japan and New Zealand (where over 60% of 'skiers' today show up on the mountain on the snowboard) embraced the U.S. craze of snowboarding and related X-treme experiences even more staunchly than Americans: which is an advantage of smaller markets in the global economy. Multi-national corporations have to sell the product to less people in France than in the U.S. So, they can do it more successfully. This lead to a somewhat awkward situation: that snowboarders in a country that invented snowboarding are still banned from some mountains, while their purported lifestyles are mercilessly used to sell a variety of corporate products to interested buyers globally.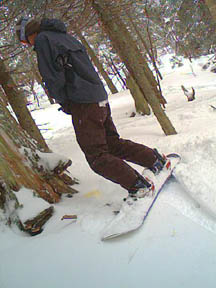 As alternative music became mainstream, however, snowboarding today is pretty much the same. Snowboard paradigm is today used to sell everything from snowboards, to cars, clothes, perfumes, soft drinks, tools, food, etc. DKNY in New York launched line of products for men. Their "men store" in New York features a mannequin dressed in snowboard gear, carrying a snowboard under his arms. Even old, conservative, upscalish retail chains like Bloomingdales caved in to the hype: their store in New York carries snowboard stuff in the windows, too. While the DKNY and Bloomingdales use of snowboard paradigm may be scorned at by real snowboarders (the DKNY mannequin looks like a typical poser from New Jersey who is right about to scrub snow off your favorite tree run), Nissan Xterra advertisements creators were extremely thorough in picking up on the burlesque and not only on the burl of snowboarders: they are going to sell well to the 'bust' generation.
There are car dealerships that announce wipeout sale over the radio (using the surfer's term wipeout rather than more classic sales term closeout), California Burritos sell extreme food, the New York times had a picture of a snowboarder on the front page during the Nagano Olympic games - there was no other sport given that much attention by the leading establishment media;

then there was the story about snowboarder gold medalist who had traces of marijuana in his blood and the other snowboarder who threw a beer can at the Olympic computer - the stories that enforced the stereotype of snowboarders as an unruly, rowdy bunch, a stereotype that sells the ever more ovepriced snowboarding equipment to rebellious middle-class teenagers quite well despite the dreadful El Nino slowed winter.

They all watch ESPN2. Of course when they hit the pipe they realize that spinning a 360 is not quite that simple. Already, there are instsitutions that say what style of riding is correct and what is not and there are proud parents bringing their kids to the snowboard instruction, watching hawkishly over their shoulders to see how their little future champs are doing, thus taking the cherished low-stress no-pressure set of values away from snowboarding, leaving many riders quite ambivalent: they are sad about the loss of "the soul" as they are amused and entertained by sudden mainstream acceptance (and those who are "pros" they make BIG bucks).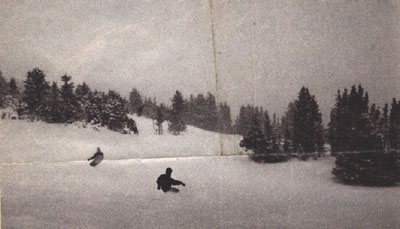 While the Bloomingdales snowboarder got replaced by Pokemon character, giving way to yet another marketing hype, the point that snowboarding became a must-do for middle class fashion-slaves, just like there are certain movies that they have to watch, certain clothes that they must wear, certain places where they simply must go to out to eat and be seen eating there, snowboarding became one of the must-do events, pretty much like sky diving, bungee jumping, rock climbing and the gym membership. Those must-do events often end up as one-time gigs, experiments in physical experiences that then are talked over and over again during lunch breaks for years of continuation of comfortable middle class existence in relatively physically uneventful world of corporate employment. So, you often get people whose better choice of sport would be stationary biking. Your job as an instructor is merely to prevent them from injuring themselves. Keep in mind that their bosses need their wrists to move that mouse!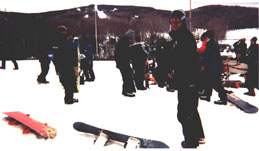 It even does not have to be corporate. I had a group of people - the afternoon lesson - there is a positive correlation between the afternoon beginner lessons and unmotivated, undedicated students - and they were all working in bars, two bartenders, two waitresses and the owner: they came to the mountain on Sunday, yet they did not manage to get on snow before Thursday, which was the day they decided to take the "learn to ride" lesson. Did they ski before? Yes, but not very good. How is that they did not ski or take a lesson earlier, on Monday, let's say? They wanted, but couldn't get up on time: lifts close at 4 PM, and they were getting up around 3:30 PM every day, since they spent most of their nights partying and drinking themselves to oblivion. One would think that somebody who spends its life working in a bar, would stay away from the bar as far as possible during vacation - not them. They were tired (slept just 4 hours), thirsty (too much alcohol) and hungry (didn't have breakfast). The pudgy bartender, ten years younger than me, was losing his breath just hiking up the bunny hill. Ultimately, he threw up his last night's dinner on the slope and we used his pukey as a marker around which they attempted to make turns. By the end of the class they made a discovery: they discovered that the best way to enjoy snowboarding is too watch it on ESPN2 reclined on a cushy couch with a six-pack handy.