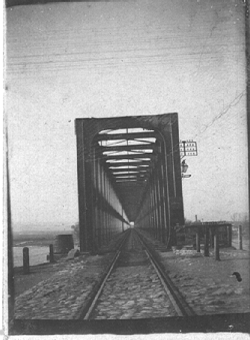 Ujvidek (Magyar). A capital of former Autonomous Province of Vojvodina. Majority population is Serbian, but there are large Hungarian (tennis playerMonika Seles), Croat, German, Slovak and Rusin minorities present. Vojvodina was the bread basket of former Yugoslavia, prosperous and developed, second only to Slovenia. It is because of Vojvodina that Serbia survived under economic sanctions. Yet, the celebrated multiculturalism (AP Vojvodina's famous official seals were printed in six languages) is all but gone, due to the steady influx of Serbian refugees. Croatian families from Vojvodina switched homes and farms with Serbian families from Slavonija (Slavonija lies in the same valley but on the Croatian side).

This is the old railroad bridge which was destroyed by Nazis in the WW II. It was rebuilt after the war, only to be destroyed again in the NATO bombing of Yugoslavia in Spring '99. All three bridges over Danube were destroyed then, closing river traffic on Danube, causing damage of flooding and river pollution. Germany decided to give Novi Sad an old bridge stored near Vienna to span over Danube, but it is not clear if the U.S. NATO sponsored sanctions will allow that. Novi Sad today is a site of strong opposition to Serbian president Milosevic.

Check out The Bazar. On-line shopping for your friends and relatives in Belgrade and Novi Sad. The site is in Serbian. You can buy groceries from your home in the U.S. or Germany or anywhere else in the world, charge them to your credit card and have them delivered to your impoverished loved ones in Serbia. For about 30% mark-up, the Bazar people will wait for you in line and deal with black market salesmen, and bring the stuff you bought to your friends and/or relatives at no cost to them.