Dozens of Nations, But Not U.S., Sign Land-Mine Treaty
By Howard Schneider
Washington Post Foreign Service
Thursday, December 4, 1997; Page A33
The Washington Post
OTTAWA, Dec. Foreign ministers from dozens of nations signed a treaty today banning the production and use of anti-personnel land mines, the cornerstone of efforts to eliminate a device that has served as a military staple but is now viewed as a scourge for civilians who live near abandoned minefields.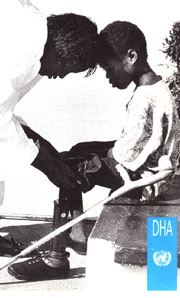 Used extensively in civil, regional and world conflicts during this century, tens of millions of the weapons remain buried in former war zones, killing and injuring thousands of civilians annually and turning a walk to school or to the well into a daily hazard.
After a five-year campaign that was initiated by private advocacy groups, given a high profile by Princess Diana and provided diplomatic impetus by Canada, the global ban became a reality this morning.
Foreign ministers from Canada, Norway and South Africa were the first to sign, with diplomats from approximately 125 countries expected to add their signatures by Thursday. Ratification by those nations is expected to follow quickly.
The outpouring of support, led by middle-size powers such as Canada and representatives from all continents, showed that disarmament goals can be reached even without the signatures of the world's three principal military powers, said Jody Williams, coordinator of the International Campaign to Ban Landmines and recipient of this year's Nobel Peace Prize.
"In the next century, we can live in a mine-free world where we are the superpower," Williams said, referring to the coalition of government and nongovernmental groups that produced the treaty. "The post-Cold War world is different."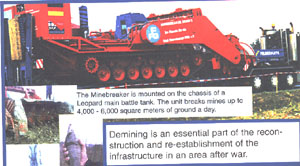 Neither the United States, Russia nor China is signing the treaty, although the Clinton administration is committing $80 million annually to mine-clearance programs and has set deadlines for the Pentagon to find alternatives to cope with situations in which its strategists still find the mines useful. The chief concern is for U.S. troops stationed in South Korea, where land mines are used to defend against a possible attack by Communist North Korea.
Karl F. Inderfurth, the newly appointed U.S. special representative for global humanitarian demining, attended the treaty signing conference as an observer. He said that even though the United States is not signing, it supports the treaty's goals.
"This is something our government is committed to," he said, explaining that Washington will back the demining effort that treaty supporters now hope to undertake. "Our hearts are in the right place. There is absolute commitment to the humanitarian cause. . . . We do have military, national security requirements."
That was not good enough for the other Americans here, including members of nongovernmental groups that helped initiate the land mine ban and politicians, such as Sen. Patrick J. Leahy (D-Vt.), who have introduced legislation they hope will force President Clinton to sign the treaty.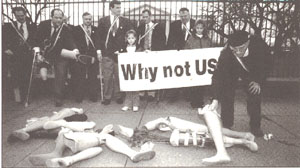 "Our country is sitting on the sidelines," said Susannah Sirkin, deputy director of Physicians for Human Rights. "It is time for President Clinton to take the most minimal of risks."
Other countries that are not signing include Israel and its Arab neighbors, as well as Pakistan, India, Turkey and Afghanistan.
Still, the treaty was heralded here today as a victory of humanitarianism over perceived military necessity. When the idea of a ban was first broached five years ago, then set as a diplomatic goal by Canada at a conference in 1996, supporters said there was suspicion among strategists and doubt among diplomats.
The treaty is "a landmark step in the history of disarmament . . . a victory for the weak and vulnerable of the world," said U.N. Secretary General Kofi Annan. "One does not have to be a global superpower to affect the future of peace and security."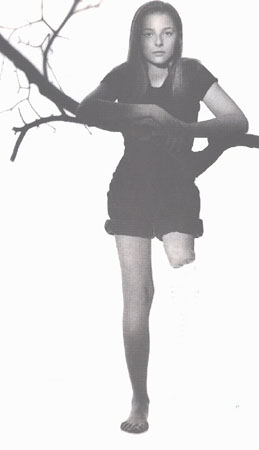 Canadian Prime Minister Jean Chretien, whose government became the first both to sign and ratify the treaty, said its impact would be felt "from the rice fields of Cambodia to the suburbs of Kabul, from the mountainsides of Sarajevo to the plains of Mozambique."
"Let us say to all the children of the world that you will walk again through the fields and climb the trees in the forests, in a world free from mines."
As representatives from various countries continued signing the treaty today, attention turned to what conference organizers say may be the more difficult and important task -- mobilizing governments, private groups and businesses to remove the large concentrations of mines remaining in such countries as Angola and Bosnia.
Chretien announced that Canada will contribute about $15 million annually to the effort, and Inderfurth said he thinks the U.S. contribution will climb to $100 million next year. Other countries also are planning to contribute, as are private groups.
At news conferences here today, initiatives were announced for an "Adopt-A-Minefield" campaign in the United States to raise money in communities for mine clearance. There is also a group called Students Against Landmines that is to carry the effort into schools.
And, recognizing that minefields often occupy otherwise arable land, three California vintners -- Robert Mondavi Winery, Wente Vineyards and Beringer Vineyards -- announced a "Mines-to-Vines" program that would try to recover potential grape-growing regions in Bosnia and elsewhere.
---
THE VICTIMS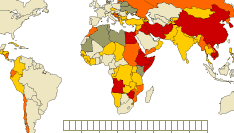 is killed or injured by a mine every 22 minutes.
A person by a mine every 22 minutes.
A person is killed or injured every 22 minutes.
A person is killed or injured by a mine

WHO THE VICTIMS ARE

Males over age 15: 68.7%

Females over age 15: 7.3%

Children under age 15: 19.8%

Unspecified: 4.2%

This is what a landmine does to you:

HOW THEY WERE HURT

Fighting: 13%

Civilian activity 83%

Demining 4%
---
Includes playing with mines, tending fields and fetching water
---
Leading exporters/producers of anti-personnel land mines
(in alphabethic order)
Belgium
China (the largest producer)
Egypt
India
Israel
Italy
Pakistan
Singapore
South Africa
United States (formerly, the largest producer)
Copyright 1997 The Washington Post Company
---
I see many former countries on this exporters list. I hope this come as a hint to the rest.