The last war of Yugoslav succession
"They've stolen everything -- our lives, history and now the elections. But we will not allow them to do this. This time we have caught him with his hand in our pockets. There will be no second round. The elections are over."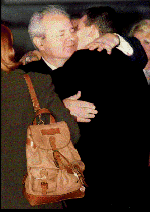 Milosevic's son, Marko returned to the country and paid a visit to the democratic opposition headquarters in his family's hometown of Pozarevac, warning them that his dad was not going to step down. This is typical Marko: bullying and intimidating, with heavily armed bodyguards in escort. I can't wait that he gets into a dark alley one day without them and meets a few Otpor kids.
Very far from the international spotlight, there were also elections in Albania. Socialist, Ilir Meta, won. The Democratic Opposition claims victory, too - attacking Meta for rigging and stealing elections. Doesn't that sound familiar? Only, nobody cares. Serbia managed to manipulate the world media into caring about it. Madeleine Albright took her fight with Slobodan Milosevic personally, and that is becoming interesting to watch. "Survivor", move over.
The strike in the largest Serbia's coal mine Kolubara continues, seriously threatening Milosevic's power supply. In response, Slobo fired a couple of his special police force commanders for "unreadiness" and dispatched general Pavkovic, Yugoslav Army's chief of staff, with heavy armed escort to Kolubara, as a show of force. Tanks were also moved out of the barracks and parked on sides of the Serbia's highways, ready to run over the barricades citizens are putting up to block the roads. This is the most serious move to the civil war so far.
Kostunica meanwhile reportedly met with IMF and World Bank representatives in Bulgaria discussing money Serbia would get once he finally takes over. If, of course, that happens.
Belgrade's soccer team Red Star won British Leicester City 3:1 on the Red Star's "home" stadium in Vienna - due to the sanctions no UEFA games can be played in Belgrade.
In the US District Court for the Northern District of California a case was filed on behalf of ex-Soviet and Yugoslav Nazi victims against the Swiss National Bank (Naumovic v. S.N.B.). You can contact Jonathan Levy, Tel. 513-0528-0586 about it. Swiss response? Swiss banks froze all accounts held by Yugoslav government and its associates. As it is usually done when the civil war is imminent...