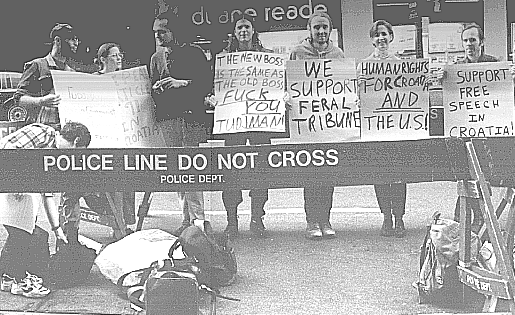 Neither East Nor West, the NYC activist group that supports alternative and opposition voices in the Communist /ex-Communist world, will hold a protest in support of the editors of Feral Tribune, the Croatian satirical opposition weekly, on Friday September 20.
WHEN: Friday, September 20, 4:30 to 7:00 PM
WHERE: Croatian consulate, 369 Lexington @ 41st
CROATIAN ANTI-WAR NEWSPAPER UNDER ATTACK
By OGB News Service
Croatia's independent satirical weekly Feral Tribune is under attack by the regime of President Franjo Tudjman. Along with the Arkzine, Feral Tribune is a lonely voice of dissent in militarized Croatia--and Tudjman's machine is trying to shut it down under a far-reaching new law controlling the press. Two editors may face imprisonment just for lampooning Tudjman.
This is just the most blatant of many moves aimed at silencing Feral Tribune. In May, Nevenka Kosutic, Tudjman's daughter, sued the struggling paper for 3.5 million kuna, or $635,000. The paper claimed that she set up a profitable business using government connections. This is the latest in a series of reports in the independent media that Tudjman's family and friends have enriched themselves while much of Croatia lives in or near poverty.
That same month, charges were brought against Feral Tribune editors Viktor Ivancic and Marinko Culic under a new law that forbids journalists to "offend" leading officials: the amended section of Article 71 of the Croatian Penal Code which, among other offences, forbids publishing or broadcasting information deemed untrue and which can injure the "honour and reputation" of senior public officials. Article 71 also mandates up to three years' imprisonment upon conviction.
The Prosecutor-General's Office on May 16 sent the editors a court summons on charges of making President Tudjman "an object of libel and slander" in an article criticizing his suggestion that the remains of World War II Croatian fascists be reburied alongside their victims. This is but one of many statements by Tudjman minimizing the genocide perpetrated against Serbs, Jews and Roma ("gypsies") by Croatia's pro-Nazi Ustashe regime, which established its own death camp at Jasenovac. Tudjman also recently stated that many of the thousands buried at Jasenovac were actually killed by the anti-fascist resistance--a dangerous and cynical distortion of history.
These charges add to a growing number of libel cases brought against journalists in Croatia since Articles 71 and 72 of the Croatian Penal Code were amended in March 1996 to allow public officials greater freedom in charging media outlets with libel. A libel suit filed by HDZ leaders against the independent weekly "Globus" has been pending since 30 May. On 14 June, the trial against Culic and Ivancic was unexpectedly adjourned on its first day until 25 September.
Ironically, Ivancic and Culic face slander charges for calling Tudjman "a follower of Generalissimo Franco" when Tudjman himself had upheld the late Spanish dictator as an example of a man "who enabled normal development of democracy in Spain" by having "the courage and wisdom to say that both the Spanish Communists and Phalangists have fought for Spain, albeit under different flags."
Tudjman's troops in neighboring Bosnia have just carved that country up in a cynical deal with the rival strongman Slobodan Milosevic of Serbia (and the connivance of the US, UN, NATO and EU). Last year, Tudjman attempted to shut down Feral Tribune on "pornography" charges for printing a cut-and-paste photo of Tudjman and Milosevic in bed together.
Feral Tribune was originally a satirical insert to the Split newspaper Slobodna Dalmacija. In 1993, Slobodna Dalmacija was "privatized" to a group close to the Tudjman circle, and the independent-minded editors were all purged. Feral Tribune became an independent weekly, led by the old editors from Slobodna Dalmacija who refused to toe the Tudjman line.
That same year, 34-year-old editor Ivancic was drafted into the Croatian military--the only editor in Croatia to face conscription. Since then, some 15 lawsuits have been launched against Feral Tribune, totaling nearly $1 million. Most have been brought by Croatian police and military officers accused by Feral Tribune of war crimes.
Ivancic and Culic are the first journalists to be prosecuted under the new law prohibiting criticism or satirical commentary on the president, prime minister, parliamentary speaker or chief magistrates. International media organizations and Croatian opposition groups have condemned the law, which imposes a sentence of up to three years' imprisonment upon conviction for libel and up to six months for slander. "Feral Tribune", however, is not the only target.
On 3 September 1996, the ruling Croatian Democratic Union (HDZ) brought charges against both Veljko Vicevic, editor-in-chief of the independent newspaper "Novi List", and columnist Tihana Tomicic. The same day, the HDZ brought similar charges against Ivo Pukanic, editor-in-chief of the independent weekly "Nacional", and columnist Srecko Jurdana.
The charges against "Novi List" stem from a recent column by Tomicic in which she compared the political climate in Croatia prior to its first 1990 elections to the situation in Germany just before Adolf Hitler was elected to power. Although no issues were specified, the charges against "Nacional" singled out Jurdana, known for his frequent columns criticising HDZ leaders.
All of these journalists were charged with violating Article 71 of the Croatian Penal Code. Tudjman's ruling party, the Croatian Democratic Union, is now attempting to buy out the country's only independent radio station, Zagreb Radio 101, much as Slobodna Dalmacija was bought and silenced three years ago. Ironically, Radio 101 was the first electronic media in former Yugoslavia which offered Tudjman a microphone (Wall Street Journal, 07/25/96, front page, by Mark Nelson). And Feral Tribune's Ivancic, Novi List's Vicevic and Nacional's Pukanic face imprisonment.
Time to act is now.