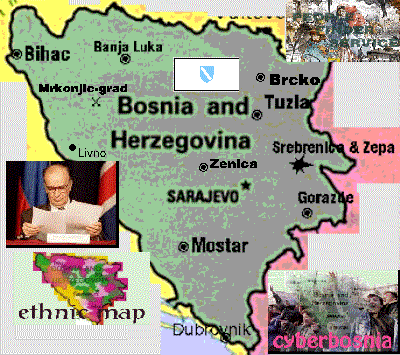 Click here to see how "big" Bosnia really is.
---
Road map of Croatia and Bosnia. While following the war in Croatia and Bosnia, did you ever find yourself lost with names like Mrkopalj, Strizivojna, Cvrsnica or Zagonj? I did. And I lived in Croatia for 25 years. Now you can find all and more of those un-pronouncable names on a road map, thanks to Dubravko Kakarigi and his map site.
---
Cyberbosnia is a group of young people, Bosnian refugees, mainly college students enrolled to various Universities from Norway to Abu Dhabi amd from Turkey to New Zeland. The group is steadily growing. Forward your questions about the life in Bosnia before, during and after the war to that group, and they will discuss your questions and some of them will answer them. It is an exciting new way of making friends.

.